Peter Ablinger:
PICCOLO UND RAUSCHEN
1996/97
2'30", piccollo-flute, CD


Rauschen produziert mit der technischen Unterstützung des IEM Graz und des elektronischen Studios der TU Berlin



"In a Joseph Beuys Monograph I read about one of his early sculptures described as a simple block of iron, I thought about something like a brick, but of iron. I made "Piccolo and Rauschen" with the idea of that simple piece of metal in my mind. Later, I've seen the sculpture, which is quite different - large and amorphous like a sleeping bear... So, my piece is dedicated to an imaginary sculpture - whoever made it." (P.A.)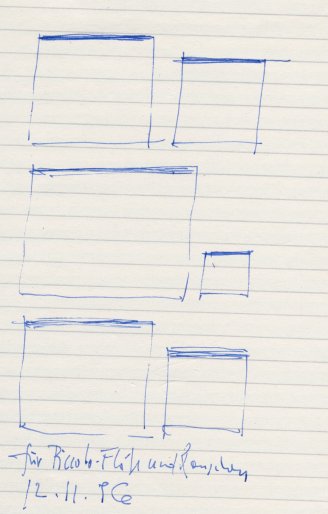 Drawing from sketch books, indicating different sized noise-"squares" with enhanced top-line: the piccolo-tone


In einer Beuys-Monographie habe ich von einer Plastik von 1953 als einem "massiven Eisenblock" gelesen. Ich stellte ihn mir vor etwa wie einen Backstein-Ziegel. Oder sogar kleiner. Nur eben aus Eisen. Das Stück "Piccolo und Rauschen" hat irgendwie damit zu tun. Daß aber die Beuys-Skulptur - wie sich herausstellte - tatsächlich ganz anders aussieht, groß und komplex, kann jetzt nichts mehr daran ändern. Das Stück ist sozusagen einer imaginären Beuys-Skulptur gewidmet.

Das Rauschen in "Piccolo und Rauschen" ist frequenzbegrenzt durch den tiefsten Piccoloton, das d2, und den jeweils vom Instrument gespielten Ton. Je niedriger dieser Ton wird desto kürzer der Klang. Klang"menge" und Dauer sind versuchsweise in eins gesetzt.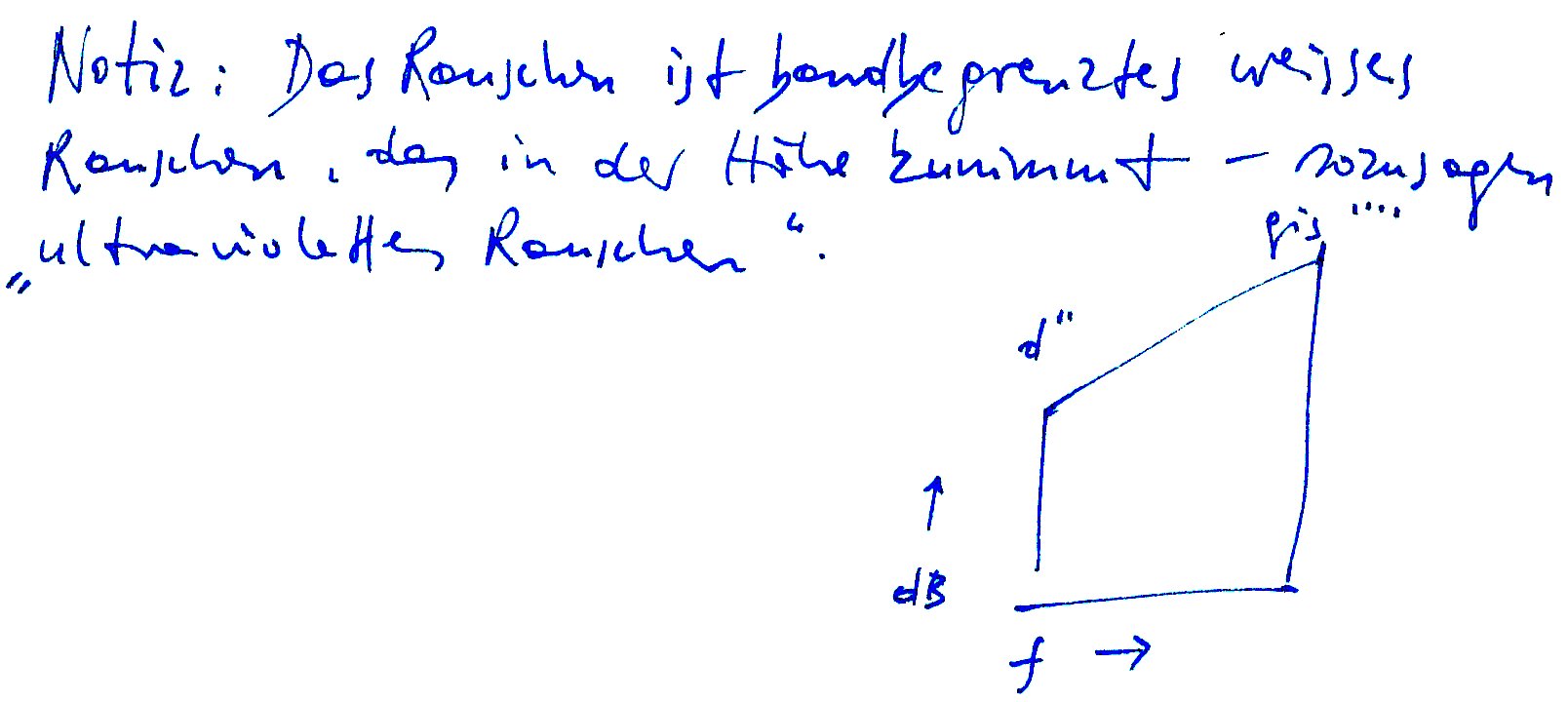 ultra-violet noise

Noitz: Das Rauschen ist bandbegrenztes weisses Rauschen, das in der Höhe zunimmt - sozusagen "ultraviolettes Rauschen".



> listen to the piece, Piccolo-Flute: Natalia Pschenitschnikowa

> full score and performance material (67KB)

> audio-material to create performance-CD (3,8MB)


for score and performance-CD, as well as for more informations, contact the publisher:



ZEITVERTRIEB WIEN BERLIN
Dr. Siegwald Ganglmair, Ruprechtsplatz 4-5/10, A - 1010 Wien,
T: ++43 / 699 / 103 183 74, AB/F: ++43 / 1 / 535 12 66



see also:

> Instrumente und Rauschen

> WEISS / WEISSLICH 17, Instrument und Rauschen

> Rauschen, documentation

> Subsonic and ultrasound concepts


back to: worklist
impressum \ this page was created by

Aljoscha Hofmann \ last edited 18.01.2008 CET