Peter Ablinger


AUGMENTED STUDIES


about the series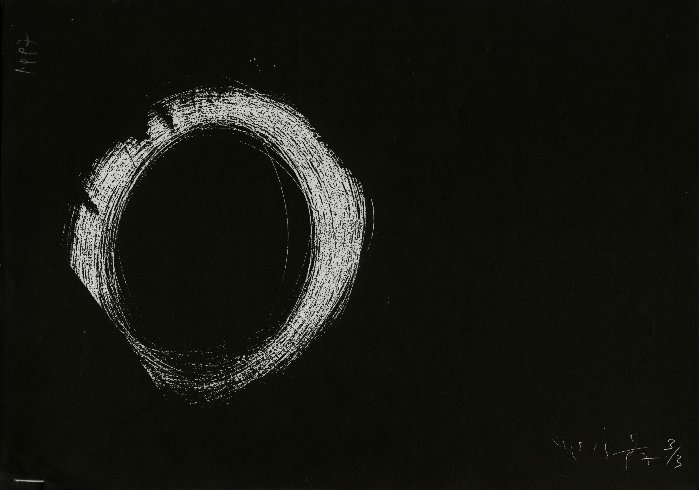 Peter Ablinger, "Kreis", drawing 1997
All pieces within the series 'Augmented Studies' may be seen as a continuation of my exploration into redundancy. Most of the series (though not all) takes, as its starting point, the redundancy of maximally simple material, or, carry on the redundancy/rigour of method/algorithm as a structural vehicle to finally arrive at its opposite - density and complexity. True to all pieces in the series, however, seems to be the intent of focus - the tension between redundancy of material and complexity of experience.
> see all pieces from the series
(one of its pieces is itself again called 'Augmented Study')
> See below: Related pieces from earlier series:
(somehow 'Augmented Studies' seems to pick up the thread of certain earlier occupations from the late 80ties and mid 90ties)
OHNE TITEL / 3 FLÖTEN I-III
(1989-91), 18', 3fl > details
OHNE TITEL / 3 KLAVIERE (1-6)
(1992), 27', 3pno > details
OHNE TITEL / 2 KLARINETTEN (1-6) (1993), 23', 2cl > details and full score!
REGENSTÜCK 1-6 / 6(3) SCHLAGZEUGER
(1993), 20', 6 or 3perc > details
WEISS / WEISSLICH 6, 12 Kassettenrekorder
6a: (1992,94), 30' 6b: "konzertante Installation" (1996), 12'
12 tape recorders, 30'; 6b: "concert installation", 12' > score and photos; german description how to create the performance material
WEISS / WEISSLICH 22, CD
Haydn, Mozart, Beethoven, Schubert, Bruckner, Mahler (1986,96), 4' > note
WEISS / WEISSLICH 31, Membrane, Regen (1996)
31a: Regenunterstände auf öffentlichen Plätzen
31b: Schlagzeug, Regen (1999)
31c: Regenschirm (1999)
31d: Gläser, Regen (2002)
31e: konzertante Installation mit 8 Glasröhren (2002), ca. 18'
membranes, rain; 31a: rain shelters in public places; 31b: drum-set, rain; 31c: umbrella; 31d: glasses, rain; 31e: concert installation with 8 glass tubes, ca. 18' > details
IEAOV
"Instruments and Electro-Acoustic Site-specific Verticalisation"
pieces for instruments and a form of live-electronics by which a succsession of sounds as input become timbre as output > introduction


> A Note on Programming Series


(english edited by Henry Andersen)