3rd Act: THE LIBRETTO
a book by Yoko Tawada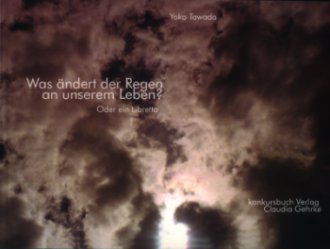 The Libretto by Yoko Tawadaa:
Was ändert der Regen an unserem Leben? Oder ein Libretto
konkursbuch Verlag
The Libretto, the 3rd act, by Yoko Tawada, is an autonomous book, conceived as an act of pure reading, a text/book that is neither set to music nor sung.


catchwords by Peter Ablinger for
3rd Act (the Libretto):

the words
noise record and fiction
the heard and the fantasized
reading and imagination
the book as book
private reading in private places
An independent book, unset and unsung: simply to be read. The author is Yoko Tawada, a Japanese writer living currently in Hamburg. The right pages read as the transference of real sound configurations of the city into words. The left pages are readable as a fictional collection of moments from the mythology of the everyday.
…Painful like every artificial knife cut.
Yukika: More specific please!
The Official: Well…how should I say it?
Yukika: Do you have to be bribed?
The Official: What makes you think that?
Yukika: Tell me quickly what I should do!
The Official: You must give birth to your mother.
Yukika: Excuse me?
The Official: Your mother must come out of your belly. For only through a living birth-mother can someone dead return to living in the world of the living.
Yukika: But why should I do that?
My grandmother gave birth to my mother.
The Official: She is already dead.
Yukika: But how can I give birth to my own mother? For that I must have a body that's like a city.
3:17 A hammer sounds five times. This time it has moved somewhat closer.

3:20 A truck approaches, comes nevertheless not really close.

3:36 A door will be slammed. It is either thin and made out of wood, or is heavy and would be found at a distance from the microphone.

3:40 The door of a car is cautiously closed.

3:42 Steps. Sure of destination or furious.

3:48 Siren of an ambulance.

3:50 A small, old typewrite clicks.
excerpts from the book THE LIBRETTO by Yoko Tawada, translated by Bill Dietz
> listen: detail from Act 1, The Singing, Table 3, Track 1
the 7 Acts of the Cityopera - go to: